Perfect Junior Resume: How to Write a Resume for a Beginner Programmer
Almost all jobs on the Internet receive more than 250 applications from job seekers, according to Zippia . That is why it is becoming more and more difficult to compete for a place every day, and even more so if there is no work experience at all. Developer resume without work experience is gaining, as a rule, the least number of views, and the percentage of responses from employers is even lower.
Together with JOBITT experts, we studied the problem of employment and the main mistakes in the resume of a novice developer. Together we have prepared a short guide in which we will tell you how to properly prepare a resume for a programmer without work experience, where to look for the first position, and why it is beneficial for newcomers to enter either a young startup team or a serious company. Consider the pros and cons of both options.
Subscribe to updates
You will receive cool and useful material every week.
To Write a Better Resume, First Understand Why You Are Writing It and Who Will Read It
Understanding the nuances of resume selection is the key to successful employment. The filtering mechanism is a chain where the application passes through the ATS, is viewed by HR, and gets to the customer of the service (the head of the development department). Each link can be a barrier to a novice programmer's resume.
To avoid application rejection and get an invitation to an interview, you need to follow 5 tips:
Use strong words (verbs).
Emphasize your role in projects.
Show a willingness to learn and grow with the team.
Keep the application to no more than 1.5 pages.
Don't lie about your experience or skills.
Now employers are eagerly recruiting young promising developers, so you should not be shy about inexperience. Better show your desire to grow, backing it up with cases or even academic success.
What Should a Resume Say About Junior?
How to write a resume for a novice programmer for the first job? The application should contain as much useful information as possible for the employer. For example, academic achievements, a list of skills, and the level of development tools. It is necessary to focus HR's attention on your successes and the benefits for the company that they will get by hiring you and investing in your training "for themselves".
What's The Best Bet When Choosing First Job
For beginners, two starting points are ideal: either a start-up in a company of like-minded people or an internship in a team of professionals. In the first case, you can learn from your own mistakes and grow with the company. In the second, they will help you improve your skills, but each mistake will cost money and time, which is perhaps the main factor in rejecting candidates without experience.
In general, resume of a novice IT specialist is in demand by companies of all levels, from startups to international flagships of the IT market. The main factors affecting the chance of employment are the candidate's potential, adaptability, and learning ability. So, if you are confident in yourself, feel free to send an application to several vacancies and demonstrate your capabilities.
Skills Section: What You Should and Should Not Write
How to write a junior resume and IT skills correctly? We will limit ourselves to three tips from the JOBITT experts:
Be honest about skill level. If you have learned JavaScript in Middle, so write it. Your skills will be tested in practice. It is better to pleasantly surprise the employer than not meet their expectations.
List exclusively relevant skills. If the job requires Python — Junior/Middle, then your C # — Middle skills are not relevant; do not include them.
Describe as much as possible your academic achievements and the projects in which you participated. In the absence of work experience, this is the only chance to interest HR and the employer.
The main rule for all candidates is to write honest information. Any lie will reveal itself, and you won't be able to restore the relationship with the employer after.
Work Experience Section: How to Correctly Fill in a Junior Developer Without Experience
Since beginners often lack work experience, filling in the section causes a number of problems.
Let's consider, in part, an example of a junior developer resume:
Work experience
Junior Developer in Jacobs Startup, 2017-2018.

Developed a notification system for TM promotions.

Implemented a payment system in an app.

Integrated social media tools into a website.
Junior Developer in Mascot Inc, 2016-2017.

Wrote an interface for messaging.

Developed a system for creating videos.

Adapted software for outdated PCs.
As you can see, this example of a junior resume describes the candidate's experience in projects and indicates the specific actions that they took to bring a product to market.
Conclusion
A junior resume should demonstrate to the employer the applicant's prospects, their desire to develop, adapt and become part of the team. We understand that writing an application from scratch causes some difficulties for beginners, but there is a way out. You can create a resume using the JOBITT service. For the template basis, a team of experts used the best practices of global IT companies and their internal questionnaires.
Do you want to find your first serious job fast? Create a resume and publish it on JOBITT, where representatives of top IT companies from all over the world gather!
Perfect Junior Resume: How to Write a Resume for a Beginner Programmer
To Write a Better Resume, First Understand Why You Are Writing It and Who Will Read It
What Should a Resume Say About Junior?
What's The Best Bet When Choosing First Job
Skills Section: What You Should and Should Not Write
Work Experience Section: How to Correctly Fill in a Junior Developer Without Experience
Conclusion
Create your resume with us in 15 minutes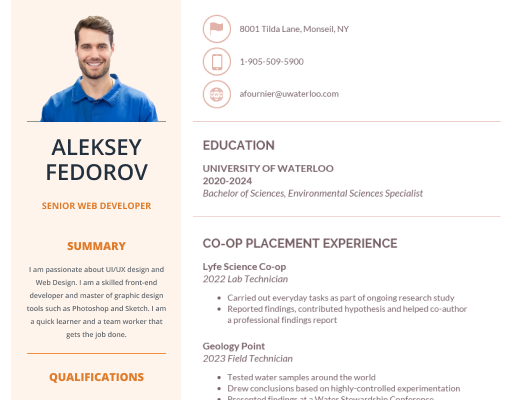 Create now