Additional Education in Your CV. Certificates, Courses, and Awards
Did you know that in about 40% of successful CVs, candidates provided accurate numbers and described their successes? It applies not only to the past work experience or skills of an applicant. An essential point of any professional CV is the education section and the subsection with additional courses, training, or special classes. Many people are skeptical about this block and believe that practical skills are much more important than digital or wet printing on a certificate.
On the one hand, it's true because most employers prefer to test skills at a personal interview. But CVs are often selected according to generally accepted criteria such as a certification block. So what should be included in an additional education section of your CV, and what types of courses must be mentioned for a particular vacancy? Jobitt experts have studied this issue and prepared a small guide.
Subscribe to updates
You will receive cool and useful material every week.
Where to Place a Block with Certificates, Courses, and Awards?
There are 2 main positions where you can place an additional education block on your CV.
The first option is a section containing information about the institute, university, and school.
The second is either an additional section or "About Me" block.
Let's take a closer look at the first option. There can be no more than 10 certificates, so you need to place them thoughtfully. Determine the priorities for this vacancy and write them down concisely. Specify titles, marks, and, if possible, attach a digital copy with a picture or file. Do not try to enter everything at once because you can show additional education certificates upon request at the interview.
About the Difference Between Certificates, Courses, and Training in the CV
Since you need to add additional education to your CV, you should understand what this section must contain. There are 3 common types of additional education:
Courses are full-time or distance learning of a profession, improvement of your skills, or advanced training.
Training is social activities aimed at motivation, self-development, or improvement of communication skills.
Certificates are documents that summarize the training results in digital or printed form both for courses and training.
Courses and training in your CV confirmed by a certificate with marks are a matter of interest for HRs.
How to Place Certificates Into Your CV?
There are no particular difficulties with placement but the information should be submitted in a structured way. The structure of your CV shows your professional approach and significantly saves space in the document. So, let's see how to place courses into a CV with examples.
Correct
International Institute of Digital Technologies 2001-2007; master.
Marketing — Google OCM, Analytics.
3D modeling — SkillBox, Geek University.
Development — ITEA, ITVDN.
Wrong
Higher Academy of Digital Sciences 2002-2008; specialist.
Marketing and analytics courses.
Development and design training.
Modeling: from basic to pro.
Courses and Training in Your CV
Indicate only relevant courses in your CV. Since the IT world is constantly changing, development techniques quickly become outdated.
Classes from ten years ago will confirm your knowledge of the methodologies of that time. Recruiters are much more interested in practical skills that correspond to modern work models.
The same goes for training. Cultural values often transform into something new, perseverance gives way to adaptability and speed of work, and subordination in communication transforms into equality for all project participants.
Another important aspect is that employers look at the correspondence of courses and training to the offered position. For example, if you are a marketing specialist who completed specialized courses and indicated them in a designer's CV, the recruiter will put your CV aside with a high probability.
Awards and Recognitions
How to indicate awards and gratitude in your CV? To do this, make a section called "Personal qualities" where you describe your characteristics and mention achievements. Highlight awards relevant to the desired vacancy because recruiters appreciate only those required for this position.
Do not lie or embellish. It is easy to check it, but it is much more difficult to restore trusting relationships with the team and superiors.
Common Mistakes
What mistakes do candidates make in their CVs?
Illiteracy. Yes, grammatical errors are the first alarm call for a recruiter when reviewing a CV.
False information. Boasting or exaggeration of your skills often leads to interview failures.
Bad structure. The purity of the CV and the "funnel" presentation model are valued by employers, so they ignore "trash".
Mismatch. Certificates included in your CV must be suitable for the vacancy. Otherwise, their value is equal to zero.
Ignoring. Skipping important blocks is a bad gesture. Even if you are a beginner with no experience, don't be afraid to mention it in your CV.
Conclusion
Compiling a CV can be a daunting task for a candidate. But it doesn't mean that the specialist is bad or illiterate. Now the HR area is being transformed, and the rules for filling out profiles are changing too. Of course, you can turn to copywriters for help or visit Jobitt to create a CV using a template that matches top IT companies.
Create CVs in the JOBITT constructor for free and without registration! Impress recruiters with a professional CV and choose the best offers on the website.
Additional Education in Your CV. Certificates, Courses, and Awards
Where to Place a Block with Certificates, Courses, and Awards?
About the Difference Between Certificates, Courses, and Training in the CV
How to Place Certificates Into Your CV?
Courses and Training in Your CV
Awards and Recognitions
Common Mistakes
Conclusion
Create your resume with us in 15 minutes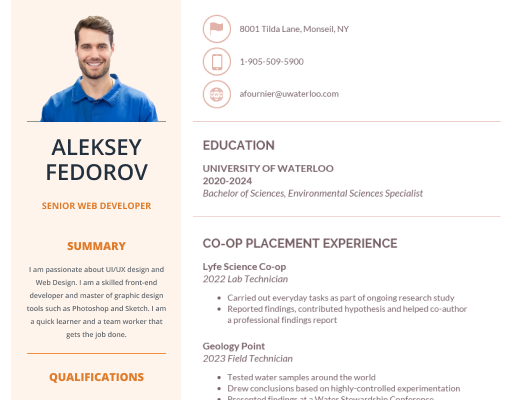 Create now