What to Write About Yourself in Your CV?
Did you know that only 2% of CVs submitted by candidates end up with an interview? Zippia found out that 24% of recruiters spend no more than 30 seconds reading a candidate's CV. That's because modern recruiting is gradually acquiring marketing techniques.
Today, about 70% of companies use CV analysis software that checks keywords in applications and filters them, marking them as relevant or inappropriate. That's why it's essential to compose a CV correctly before sending it to a potential employer. Jobitt experts have prepared a series of articles on writing a CV. In this article, you will learn what to write about yourself in your CV to convince the recruiter of the exclusivity of your expertise.
Subscribe to updates
You will receive cool and useful material every week.
What Must Be Mentioned in the "About Me" Section?
Of course, you can emphasize all your personal qualities and soft skills but the benefit from this will be minimal. Write information about yourself in your CV in an unusual way: tell about work experience in similar areas and back it up with your achievements. Pay attention to professional presentation and a set of keywords.
If you are thinking about what to write in the "About Me" line of your CV, first of all, tell about how you helped companies you worked in. Focus on numbers, but don't overuse details and descriptions. Every word about yourself in your CV should emphasize your professionalism and willingness to join the project. It is essential for the IT sector, where practical skills are tested literally at the first interview.
Describe Preferences
Every recruiter is interested in a particular set of features a candidate should have. Describe yourself in your CV briefly, highlighting the priority skills and experience for this vacancy. Use keywords and phrases relevant to the specific job offer. For example, if you write about yourself in a CV for a graphic designer position, include tools you work with, highlight your experience in using them, your skill level, and add a link to your portfolio.
What can you write about yourself in a CV besides skills and experience? Do not forget about your personal features, such as fast learning, perseverance, and creativity. Most modern companies appreciate these characteristics of candidates because their productivity, on average, is several levels higher compared to the rest.
"About Me" Block in a CV in Several Examples
Let's go to the practical side of the issue, namely, the examples of how to write about yourself.
Wrong
Self-descriptions in a CV can become an anchor if a candidate is careless in filling out the CV. The wordings "professional business manager with rich experience" and "specialist in software development, who completed 5 different specialized courses" in the "About Me" section of your CV will scare off recruiters rather than attract their attention.
These descriptions include general phrases that can be applied to 90% of vacancies. Such applicants are of no value to companies. Therefore, despite the real experience and skills of the candidate, in most cases, they are automatically rejected.
Correct
When compiling a CV, an example from the Internet may be helpful. We have selected one of the most successful cases from the JOBITT platform to show you how to format this section correctly.
Example:
A recruiting manager in X, 2001-2005. Expanded staff by 7% and increased company revenue by 3%.
A marketing agent in Z, 2005-2008. Developed a strategy that generated 16% more new leads than the old version.
A copywriter in Y, 2008-2015. My texts and SEO improved lead generation by 18% and increased the average check of the store by 110%.
This is how a brief yet decent CV was filled by one of our candidates. You can see the achievements of a specialist in a particular position. Needless to say, the competition for a vacancy will be successful for applicants after such information about themselves in their CV?
Universal Information About Yourself for a CV
As for general information about a person to include in a CV, the recommendations are standard here. Think about what to write about yourself in your CV and concisely state the idea.
Indicate only the information that relates to a particular vacancy. If you're a graphic designer, write about specialized courses and show your successful cases or a portfolio. Programmers are encouraged to showcase their code and training certificates to various development methods. In the previous section, we have detailed what to write about yourself in a CV.
How to Write About Yourself for the IT Industry
How to write about yourself in a CV if you're an IT specialist? First, you need to focus on your achievements and list the hard and soft skills related to your job. Then you can mention the most successful cases that may relate to the selected company. You can finish the story with plans for self-improvement and learning additional programming languages, tools, methodologies, and more. Remember the main thing: you need to use keywords from the relevant topics and write concisely, without "water" and exaggeration.
How Much Info to Write About Yourself in a CV?
Many people tend to give detailed information about themselves in their CVs, but it's a huge mistake. Stretching the text for 2-3 pages, the candidate overloads the recruiter with information. Most employers prefer to find out the details in a face-to-face interview. Before scheduling an appointment, it is easier for them to quickly review the electronic application form.
The optimal volume of the section containing information about yourself in your CV is 500-1000 symbols. It is much more important to structure the text and format it correctly. The best option is to format information in a list or table.
Conclusion
Now you understand how to describe yourself in a CV. Do it concisely, well-looking, and in detail. Do not forget that the response of the recruiter depends on the quality of the text and the correct structure. Having mixed a bit of everything in this section, you practically lose the chance for a personal interview.
If you need help with preparing a CV, we recommend that you create a CV online. With the right template and professional tips, you will fill out the form faster and better to send it to recruiters or save it to your device. Create a CV with JOBITT and join the best IT community! Here you can find a job or employees in Ukraine and abroad.
What to Write About Yourself in Your CV?
What Must Be Mentioned in the "About Me" Section?
Describe Preferences
"About Me" Block in a CV in Several Examples
Universal Information About Yourself for a CV
How to Write About Yourself for the IT Industry
How Much Info to Write About Yourself in a CV?
Conclusion
Create your resume with us in 15 minutes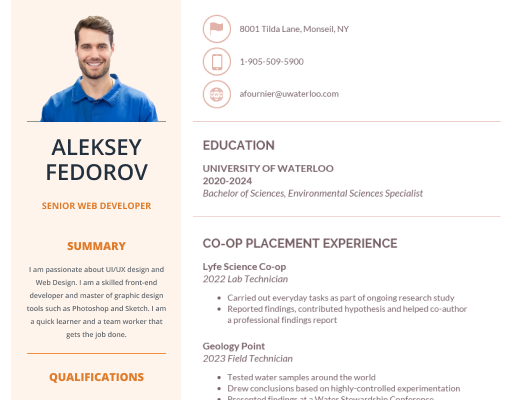 Create now