What to Write in "About Me" Section in Resume?
Did you know that only 2% of resumes sent by candidates end up in an interview? Zippia study revealed that 24% of recruiters spend 30 seconds or less. It is because modern recruiting is gradually acquiring marketing techniques.
Now about 70% of companies use software to analyze incoming resumes, which analyze keywords in applications and filter them, marking them relevant or inappropriate. That's why it's essential to properly write a resume before sending it to a potential employer. The experts at JOBITT have prepared a series of articles on proper writing. In this material, you will learn what to write about yourself in a resume to convince a recruiter of the exclusivity of your candidacy.
Subscribe to updates
You will receive cool and useful material every week.
What should be specified in "About Me" block?
Sure, you can emphasize soft personal qualities and skills, but it will be of little use. Provide information about yourself in your resume in an original way: pinpoint the experience in similar fields, supporting it with achievements. It's important to have a professional pitch and a set of keywords.
If you're thinking what to write in your resume in the about yourself line, the first thing to note is how much your work has helped a company. Stick to specific numbers, but don't overuse details and colorful descriptions. Every word about yourself in the resume should emphasize your professionalism and willingness to participate in a project. It is especially important in IT, where practical skills are tested literally on a first interview.
How to describe yourself in a resume: qualities that employers value
Every recruiter cares about a certain set of characteristics of a candidate. Provide concise information, the components of which are priority skills and experience for the job. Use keywords and phrases that are fit for a particular job offer. For example, if you need to write about yourself in a resume for an IT company for a graphic designer position, include tool names, experience with them, level of proficiency, and a link to a portfolio with works.
What can you write about yourself in your resume besides skills and experience? Personal qualities. For example, learning ability, initiative, and creativity. For most modern companies, these are the most important characteristics of the candidate because their productivity compared to others on average is higher by several levels.
"About Me" block in your resume with a few examples
Let's move directly to the practical side of the question – consider what to write about me in the resume, on specific examples.
Wrong
Describing yourself on a resume can become an anchor that holds a candidate in place if you take the questionnaire lightly. Formulations like "professional business manager with extensive work experience" as well as "software development specialist who has taken 5 different core courses" are more likely to scare off a recruiter than get their attention.
These descriptions are dominated by generic phrases that can be applied to 90% of job openings. Such applicants are of no value to companies and, therefore, despite the candidate's actual experience and skills, are automatically rejected almost 100% of the time.
Right
A real-life example from the expanses of the Internet can be helpful when putting together a resume. We've selected one of the most successful cases from the JOBITT platform to show you how to write this section correctly.
Example writing:
Recruiting manager at X 2001-2005, expanded staff by 7%, increasing company revenue by 3%.
Marketing agent in Z 2005-2008, developed a strategy that brought in 16% more new leads than the old version.
Copywriter at Y 2008-2015, used texts and SEO to increase lead generation by 18%, increasing the average store check by 110%.
That's how briefly and nicely one of our candidates filled out the "about me" section. As you can see, in this case, without any water describes the achievements of the person in a particular position. Needless to say, the competition for the vacancy turned into a chase for the applicant after such a statement about themselves for the resume?
Universal information, how to write right about yourself in a resume
As for the general information about the person for the questionnaire, the recommendations for it are standard. Think about what to write in the resume about yourself, put the idea in a concise form, reread what you have written and make the necessary changes.
Include only the information that relates to the vacancy in question. If your goal is a position as a graphic designer, write about specialized courses to accompany your case studies or portfolio. Programmers are encouraged to show their code and certificates of training in different development methods. Knowledge of English is important for almost all jobs.
You can use characterizing phrases rather than single words to reveal your qualities as thoroughly as possible. For example:
I am calm about routine, attentive, but the fast pace of work does not scare me either.
I am open to innovations.
In difficult situations, I can make a sole decision, although I prefer teamwork, in which there is interaction and constructive discussion of the problem with my colleagues.
I consider friendly atmosphere in a team important; the advantage for me is company's corporate culture.
I value respect for each other in the workplace, and I do not let my personal opinion influence the quality of my work.
I can perform the assigned tasks equally well in teams with clear instructions and projects where my initiative is welcomed.
I consider my strengths as long-term planning skills - I always try to complete the set task well and within the deadlines.
If you do not know how to write better about yourself in the resume, the universal advice is one – write the truth. All your weaknesses will sooner or later become known to the employer.
How to write about yourself in your resume for a job in IT
How to write a proper resume in the IT field? At the beginning of your information about yourself, create a "Qualifications summary" section, in which you briefly list the main qualifications, skills, and experience. Further, you can specify the most successful cases that overlap with the chosen company's activities. You can finish the story with plans for self-improvement and studying additional development languages, tools, methodologies, etc.
The main thing: You need to use keywords in the theme corresponding to the vacancy, describing your strengths concisely and without water. This increases the chances that you will be preferred at the selection stage.
What to write in a resume about yourself: tips from HR-specialists
According to official statistics , each job ad attracts up to 250 resumes. And only about 5 candidates are invited for an interview. Here are some recommendations from HR managers, what you can write in the "About Me" on your resume to get into the top 5:
Support all statements with numbers. For example, if you write that you are focused on results, mention that you have increased the team's KPIs by 35%.
Don't use clichés. It is unlikely that any job seeker will write in a CV that they are misanthropic or constantly late. So being communicative and punctual will not surprise anyone.
Provide information (including education) relevant to the desired position. Do not write about a successful experience in logistics if you apply for a job tester.
Avoid a lot of epithets. No matter how good a specialist you are, 5 personal qualities will be enough.
Structure the information. A solid text canvas is poorly perceived – use bulleted lists, indents, paragraphs.
Another critical point is to choose the optimal size of the document. We will talk about this further on.
How Much Info to Write About Yourself in a CV?
Many people want to describe themselves in as much detail as possible, which is not always effective. The candidate overloads the recruiter by stretching the text to 2-3 pages. Most employers prefer to find out the details at a personal interview, quickly reviewing the electronic questionnaire before scheduling an appointment.
The optimal length of "information about yourself" in the resume is 500-1000 cws. It is much more important to structure and format the text correctly. It is best in the form of a list or table.
Conclusion
We hope you have already understood how to describe yourself in your CV concisely, beautifully, and in detail. Do not forget that the recruiter's response depends on the text's quality, proper structure, and style. Mixing up a little bit of everything, you practically lose a chance for a personal interview.
If you need help correcting or editing your text, we advise you to create a resume online. With the right template and professional tips, you'll fill out your resume faster and better, which you can then send to an HR manager or save to your device. Create a resume with JOBITT and join the best IT community! With us, you will find jobs and performers in Ukraine and abroad.
What to Write in "About Me" Section in Resume?
What should be specified in "About Me" block?
How to describe yourself in a resume: qualities that employers value
"About Me" block in your resume with a few examples
Universal information, how to write right about yourself in a resume
How to write about yourself in your resume for a job in IT
What to write in a resume about yourself: tips from HR-specialists
How Much Info to Write About Yourself in a CV?
Conclusion
Create your resume with us in 15 minutes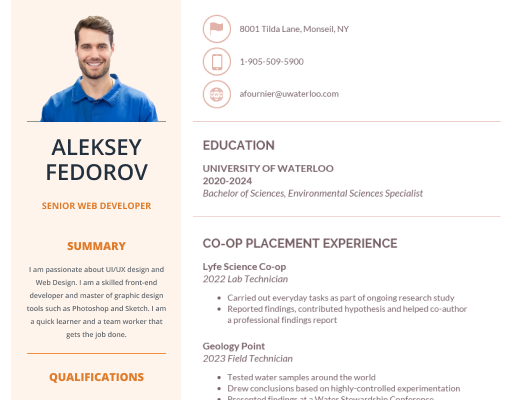 Create now