IT Specialist's Resume: Tips on How to Write It
You will probably agree that a correct resume is an important step ahead of your dream to get the vacancy you want. Yet there is a problem as everyone considers this step in their way. Sometimes, the resume will be thrown into a trash bin just because it is too short. Yet in another case, brevity will be considered the soul of wit. How is it about IT resumes?
In this article, we'll try to get through the criteria Hrs use to select IT vacancies candidates and focus on what should be written in the document to bring your dream (an interview with an employer) closer.
Subscribe to updates
You will receive cool and useful material every week.
Why Do You Need a Resume in IT
Some job seekers don't understand clearly how creating an IT resume will help them get a job and they just consider their LinkedIn profile as a viable alternative.
However, for most HR professionals, this approach means one thing. Insufficient interest in a particular vacancy. Therefore, it is worth studying the question of what a resume for IT should be, and sending it to employers. When such a document reaches the recruiter, it has a chance not to go to the basket but to the tech lead. And that means that the candidate will most likely be invited for an interview.
The Principles of a Good Resume for IT Pros
Writing a resume is not such a complex process as it may seem to a novice applicant. We have highlighted three main principles in writing this document we offer you to adhere to.
Reliability. The data in the resume must be 100% true. If you write that you worked using the Agile methodology and know CSS, SASS, and JavaScript at once, then this means that you really came across this in your professional life, and not just heard it at a lecture at the university.
Relevance. Work experience, education, skills, and abilities in the resume of an IT specialist, must correspond to the vacancy for which he is applying. If there are several applications you make, write a separate resume for each. Information about working at McDonald's 10 years ago may not be included at all.
Brevity. The volume of a resume that will not alienate a recruiter right away is 1-2 A4 pages. If you have a really cool experience and it all corresponds to the position you apply for, the maximum that you can write is 3 A4 sheets.
Each time you come across the question about how to create a good resume for IT, remember these three principles. Your ability to enclose yourself in a brief, reliable, and relevant way will be valued by a hirer.
Resume Structure
How to write an IT resume correctly? The first thing you should not neglect is the structure of the document. A recruiter will probably be not interested in plain text that describes the biography of a candidate in detail. Instead of this, structured precise information will be easily comprehended and it has all the chances to reach the goal.
A Good IT pro's resume consists of the following blocks:
Name and contact details. It is desirable to indicate all contacts, including a phone number, various instant messengers, e-mail, a link to the LinkedIn profile, and so on. If you don't want to be contacted by phone, you can check the preferred type of communication next to Skype or e-mail.
About me. This block assumes a brief description of your experience and knowledge that can be applied to a particular position. Listing epithets like "purposeful, active, easily trained" and so on can be perceived by recruiters as an annoying factor and can lead to rejection.
Work experience and skills. This is the main block of every resume, so we will talk about it in more detail later.
Education. Thinking about how to write education in a resume? Here, an IT specialist should indicate the university where he received a specialty that is relevant to the position he is applying for. As well as specialized workshops, language courses, seminars, and pieces of training.
Additional Information. In this paragraph, you can specify the information that was not mentioned earlier but may be important for future work: readiness for business trips, availability of valid visas, etc.
Work Experience Block
When compiling this section, a simple list of the companies you once worked for is not enough. It is important for the employer to learn from the candidate's resume about the projects he was engaged in, his functions, the technologies used, the initiative you showed, and the results of the work.
It would be correct to describe your experience according to the following scheme: the period of employment → name of the company-employer → position held → duties performed → key achievements → technologies used on the project → key skills → recommendations.
About the Project
This paragraph should indicate the name of the project that you worked on in the organization and briefly describe it if you want to write an IT summary correctly. For example, "Development of a banking network for the exchange of professional information and messages".
Duties
Avoid formulaic expressions. Write only about what you did in your position, and not about what this position implies in principle. If you had people subordinate to you, be sure to indicate the number of team members.
Key Achievements
It is important to indicate here how you helped your employer's business. "At my initiative, the software was developed on a cloud platform, which provided greater security for the solution, simplified its scaling, and expanded integration capabilities" or something like that is a good example.
Technology
List the tech stack you used in each position. Its mention suggests impeccable command and the ability to use the same technologies in future work.
Key Skills
Once again, we will emphasize that only those skills that you can really confirm at the interview and subsequently apply in your work should be indicated there. If the job requires it, you can add a portfolio or code sample to your resume. It is better if this is done through a link to a specialized site.
Recommendations
Contact details of past employers are big merit when considering resumes. But, leaving such information, you need to be sure that the people mentioned in the resume can give you positive feedback.
Check List
Let's repeat the basic rules of how to write an IT resume correctly. It is important to present reliable data that are directly related to the desired position. Write briefly, omitting unnecessary epithets, and dwell on important information regarding your skills and abilities in more detail.
Using the experience of working with job seekers and employers, Jobitt will help you cope with this task. We have provided the ability to create an IT resume in the constructor available on our website.
IT Specialist's Resume: Tips on How to Write It
Why Do You Need a Resume in IT
The Principles of a Good Resume for IT Pros
Resume Structure
Work Experience Block
Check List
Create your resume with us in 15 minutes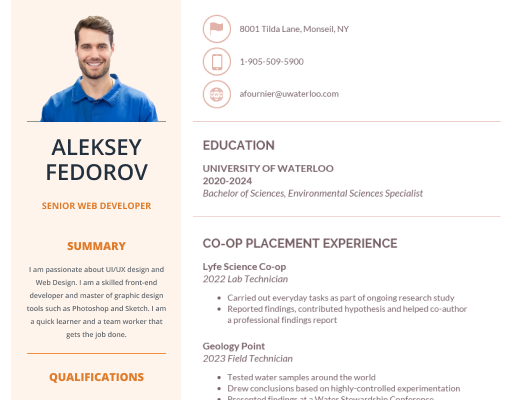 Create now