How to Get Your First IT Job Without an Experience? Resume-Making Recommendations
How to create a resume for an IT company if you have no work experience? This question is familiar to all the fresh graduates who recently have got their diplomas, complied courses, or managed to learn new development technology, etc. It is important to understand that you cannot claim top-notch vacancies from scratch. Your career growth is a step-by-step process and it depends on the growth of your skills and expertise. Everyone was a fresher once and the IT industry is no exception.
JOBITT experts have prepared resume examples for trainee IT specialists. In this article, they will explain to you what to write in your resume and how to write it to involve the interest of the toughest recruiters.
Subscribe to updates
You will receive cool and useful material every week.
What to Write in Experience Block for a Fresher
IT resume containing no mentions about the experience of the candidate makes potential hirers suspicious. The trainability of candidates does not always pay off, and the lack of practical skills only complicates the process. Therefore, it is very important to fill in the experience block correctly, even if you miss work experience.
What to write in a resume's Experience block for a newbie? The right answer will be to write only the truth. If you have graduated from a university in a technical specialty then indicate this in your work experience. If you have completed courses then duplicate them right there. Do you have awards for participating in development projects? Specify it! Everything related to the vacancy can be displayed in the work experience. Case studies of personal projects, portfolios of offline works, code samples, and so on. All this confirms your talent and willingness to get started with minimal training.
Recommendations for Complying a Resume for Newcoming IT Specialists
No-experience IT specialist's resume is a cornerstone for freshers' employment. It provides an opportunity to join startups, get training and internships in cool companies, or even launch your own project. The main key to success is to present your potential in the market correctly. The advice of JOBITT experts on how to create a resume of an IT specialist will help you with this.
Indicate your achievements: in personal and non-commercial projects, in training, or in practices.
Describe your knowledge in detail, and better support it with examples. For graphic designers and 3D artists, there are special platforms where you can collect and show your portfolio. Developers can similarly post code snippets on GitHub for demo purposes.
Show passion and perseverance. Motivate the employer to train and get you on the staff permanently.
Optimize the text of your resume with keywords and relevant information.
Write a resume for a specific vacancy without general phrases and banal data.
The key to successful employment is a properly constructed resume of an IT specialist without experience. You can see an example of such a resume in another article, where we described in detail the sections and features of filling it.
Conclusions
Use the advice of experts and the JOBITT online builder to create a resume and present yourself to recruiters brilliantly. Fill out the resumer, publish it on our website, and get feedback from top IT companies. With JOBITT, you provide yourself with a great job experience.
How to Get Your First IT Job Without an Experience? Resume-Making Recommendations
What to Write in Experience Block for a Fresher
Recommendations for Complying a Resume for Newcoming IT Specialists
Conclusions
Create your resume with us in 15 minutes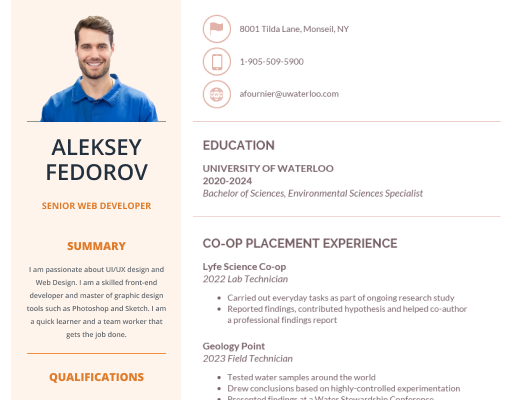 Create now