RESUME: Basic Requirements
What are the technical requirements for a candidate questionnaire? Structure, grammar, and reliable information are the three pillars on which candidates are evaluated. The text of a resume and the data presented in it are important to recruiters, but design and errors are also evaluated. They also influence decisions about whether to interview an applicant.
Now you will know the rules of resume writing, as well as the requirements for resume design. We hope this article will answer all your questions and help you correctly fill out a resume for any IT job.
Subscribe to updates
You will receive cool and useful material every week.
What Are the Rules for Writing a Resume That You Should Definitely Consider?
We'll start with a general section and look at the current list and each individual requirement on a resume, such as advanced English or another language. All candidates must describe themselves in a CV, and the HR department checks it before an interview. As information technology advances, recruiters are adapting to it, such as using software tools to match profiles. We won't go into much detail, just noting that these systems analyze resume texts and sort them by keywords. Sounds like marketing, doesn't it?
That's why you need a guide to the basic requirements for resumes. Let's start with the basics and go through all template blocks.
General information about a candidate
The basic resume writing requirements are accurate personal and contact information. Even if your application is approved, HR staff will not be able to contact you and invite you for an interview if you do not provide the correct information and contacts.
Work Experience
On every resume, the key requirements involve a description of past jobs. It is essential to focus recruiters' attention on similar positions and job duties. It will help you stand out from the competition. You should also enter information in reverse chronological order: from the last job to the first.
Education
Classic resume requirements for job applications include education. You should tell HR where you studied and what courses you took, you can even mention a specific student project. You can also list your certifications here. It is better to write about the courses relevant to the job. You can state the rest during the interview.
Skills and Abilities
The resume components also include a main block of skills. You should describe your knowledge of programming languages, designer tools, etc. You will take a practical test at the interview or the beginning of the job, so take into account a request and fill in the section truthfully. PS Even newbies are invited to companies if they are willing to learn something new.
Personal Qualities
Consider optional resume requirements, i.e., the candidate's personal qualities. It is an optional block in which you can specify your hard and soft skills, which are important for the chosen field. It is not necessary to colorfully describe your kindness or persistence. Do it nicely but concisely so that recruiters immediately understand the potential of such a specialist.
Requirements for Resume Design: Writing Style
It is important to understand that there are other requirements for writing a resume, such as the text's tone and its emotionality. Excessive smugness or exaggerated self-esteem will only damage the candidate's image even before the direct interview. Don't create a bad impression of yourself by introducing big phrases and exaggerating virtues, personal qualities, or skills. The rules of writing a resume say: use a business style in the questionnaire design. This is an important factor that the manager takes into account when hiring.
What Should Your Resume Look Like Before You Send It: What Do You Need to Check?
Let's understand how a resume should look and what mistakes should be avoided in the writing process so that when you review it, no unnecessary questions arise. You need to understand that most candidates simply do not dwell on grammar, strong words and phrases, or the chronology of the description, and they forget about the reference and recommendations from previous supervisors. It is often the reason recruiters or ATS ignore their applications. To avoid unnecessary problems, you should know how to prepare a resume properly. Our separate blog articles are devoted to this topic. Read them and then you will definitely not make mistakes, and thus increase your chances of employment.
Conclusion
Check out our other instructions on how to format your resume correctly. There you'll find the best summary tips from HR experts. They will help you fill in correctly at the job interview, highlight your strengths on paper and present yourself to the recruiters. All you need to get an invitation to a job interview and be employed successfully is to study our guides on how to write a resume correctly. JOBITT helps you fill out a professional resume based on templates from leading IT companies, increasing your chances of being selected for your desired position.
RESUME: Basic Requirements
What Are the Rules for Writing a Resume That You Should Definitely Consider?
Requirements for Resume Design: Writing Style
What Should Your Resume Look Like Before You Send It: What Do You Need to Check?
Conclusion
Create your resume with us in 15 minutes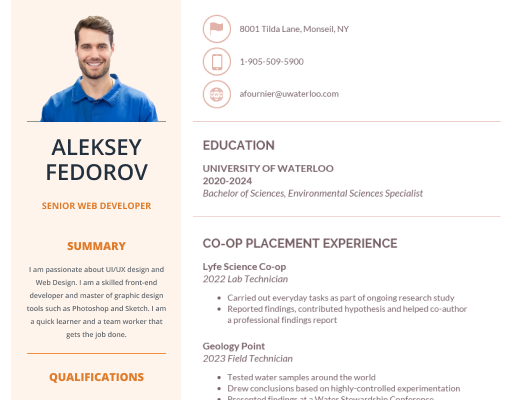 Create now