Wie man Bildung in den Lebenslauf schreibt
According to the Zippia study, about 97% of respondents said that they fill out all the main sections in their questionnaires, including information about their studies. But even so, 77% of recruiters reject applications if they contain grammatical or semantic errors. The most difficult thing when creating a resume is the correct description of oneself including one's skills, character features, and education. Difficulties often arise with the last option because within the framework of the vacancy, several items from the section may turn out to be irrelevant or screened out by the ATS system. Why do many people not know what to write in the education block in a resume correctly?
In this material, JOBITT experts will tell you how to write an education block in a resume correctly, what to indicate when training is not yet completed, and where to embed this section in the document, and how to optimize it for HR requirements.
Updates abonnieren
Du bekommst jede Woche coole und nützliche Sachen in der IT
Was soll man in die Bildungsspalte schreiben?
Have you already created a resume for a recruiter? Then you may know how to write about your education in a resume correctly. If not, let's find it out.
You need to enter information relevant to the vacancy in this block. What does it mean? For example, you received secondary and 2 higher educations, completed 10 courses, and visited several specialized seminars. The first higher education is accounting, the second is IT. So, when creating a resume for a Software Tester vacancy, for example, you should indicate only a suitable education, and if there is none, then the entire list of training and studies you've completed.
For HR, it is the specialized skills and abilities that are important, which means that he will not even pay attention to others. Also, when entering a large number of diplomas, it is important to arrange them in reverse chronology because the knowledge acquired 10 years ago becomes obsolete, and it even loses its value for modern professions.
Wohin mit dem Abschnitt Bildung?
The block about education is placed after the work experience block. Sometimes there are exceptions, but we believe that this location is the most convenient for an eye. If there is no experience or you are still a student, then the location should be reversed. This will allow you to show an incomplete higher education on your resume or completed but without work experience.
Wie schreibe ich meine Ausbildung? (Beispiel)
Let's smoothly move from theory to practice and consider what to write in the education column in the resume.
Correctly
The right example for a developer job looks like that:
KROK, Development of mobile systems, specialist. 2006-2011.
MNTU, Development of complex applications, master. 2012-2017.
Incorrect
The wrong example may be as follows:
Studied in Kyiv, graduated with honors. My profession is an accountant but I want to create applications. The period of study - 2014-2015, was expelled for poor progress.
Despite the comical nature of the incorrect example, such information is often found in the first resumes of former students and fresh alumni, although more mature applicants make similar mistakes. To avoid such situations, use the correct sample as a template when completing this block.
Wie man im Lebenslauf eines Studenten über die Ausbildung schreibt
When you create a resume, studying for a master's degree can be a good trump card for employment. Indicate the diploma degree and write the next line of advanced training, for example:
MNTU, Mobile systems developer, bachelor, 2013-2017.
MNTU, Mobile Systems Developer, Master, 2021-2024.
This will give the employer an idea of how long you will be working on a flexible schedule and when it will be possible for you to apply for a full-time job. Moreover, relevant knowledge and skills are a priority for most HR. We hope we were able to answer your question "How to indicate in the resume that I'm still studying."
Hohe Schule und unvollständige Hochschulausbildung im Lebenslauf
Do you know how to write about incomplete education in a resume? And how to write about your education in a resume if you are still studying? Literally. Specify the name of the institution, the start year, and the estimated end year. If this is your first attempt to get a job, then swap this block and the "Working experience" block.
If you only graduated from high school, then also indicate this in your resume. Do not leave the education block blank. That is why we decided to open the question "how to write in the resume that I am studying." Most young job seekers simply leave the section blank, which doesn't sit well with HR.
Schlussfolgerung
We hope our experts' advice will help you. If you want to draw up a professional profile, then you are welcome to create a resume in the constructor. Increase your expertise with JOBITT! Stay on top of IT trends with our anonymous job search solutions.
Wie man Bildung in den Lebenslauf schreibt
Was soll man in die Bildungsspalte schreiben?
Wohin mit dem Abschnitt Bildung?
Wie schreibe ich meine Ausbildung? (Beispiel)
Wie man im Lebenslauf eines Studenten über die Ausbildung schreibt
Hohe Schule und unvollständige Hochschulausbildung im Lebenslauf
Schlussfolgerung
Erstellen Sie Ihren Lebenslauf mit uns in 15 Minuten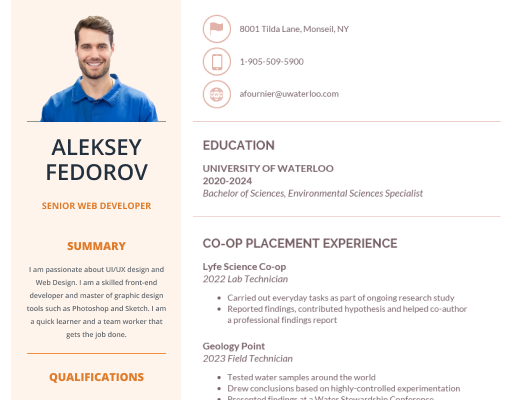 Jetzt erstellen