TOP mocne słowa na udane CV
Do you know the number of skilled pros who have not received an invitation for an interview just because an AST system had refused their resumes? HBS report tells us it is over 88% of all the resumes don't suit the system criteria of HR toolsets. Why did it happen so?
There are modern IT solutions to use by recruiters that have special filters to check resumes for their relevance according to criteria. The most relevant are handled to CEOs. In the absence of proper phrases, the resume will be filtered out and blocked.
ATS solutions are created to automatize the selection of candidates due to special keywords contained in their resumes. JOBITT experts have provided a thorough analysis to highlight the most template phrases in a resume and have selected the top list of strong words that will be necessary to use if you want your employment chances to increase. Taking our recommendations, as a rule, you may create a perfect resume to make top hirers fight for your person to launch their company.
Zapisz się, aby otrzymywać aktualizacje
Co tydzień będziesz otrzymywać fajne i przydatne materiały informatyczne
Czym jest banał w CV?
Resume writing clichés are these hackneyed phrases and words that are found in almost every text and whose intention is to catch the eye of recruiters.
These include:
Responsibility.
Control.
Management.
Purposefulness.
Working for results.
High productivity.
Optimization.
The list of such phrase templates can go on further endlessly. The bottom line is that these expressions do not give HR any idea of your certain skills and achievements. The same applies to trendy words or slang words someone regularly uses. They are always misfitting the text where you present yourself as an industry expert. If you want to write a resume, cliches will only burden the resume with unnecessary words, taking away your precious space for presenting relevant information.
Jakie są mocne słowa w CV?
Resume trigger words are verbs that indicate specific actions or achievements. Their strength is in demonstrating the results that you have achieved in the process of working in your last position.
They look like this:
Did.
Increased.
Optimized.
Improved.
Implemented.
Developed.
Created.
Supplied.
Everything that highlights your success can be used as an amplifier. These words are included in the ATS filters, and programs read them in the first place.
Dlaczego warto używać mocnych słów w CV do opisania siebie?
A resume that contains strong words is like an advertisement. The more and more appropriately you use them, the stronger the impression you make on the recruiter and employer. Use verbs in the sections About Yourself, Work Experience, Education, Additional Information.
To distinguish yourself from competitors, describe your achievements in finished form, i.e. not make them sound like "optimization of the production process" but write something like "I've developed a schedule, which increased academic performance and brought income to the company". You should agree, that these statements are much better perceived and show that a person has done this or that action and brought a result.
Najlepsze słowa do CV i przykłady, jak ich używać
Key phrases for compiling a resume should not show the desire or general information but reveal the essence of the work done. Consider typical situations and options for filling out the resume with clichés and strong words.
Incorrect:
MicroSDS, head of the development department. 2005-2009.
Achievements: Optimization of the technical process. Increasing the efficiency of personnel. department motivation. Improving relationships with customers.
BigSAP, Account Manager. 2012-2018.
Achievements: Establishing relationships with partners. Communication with the audience. Control over communication with contractors.
MarlinCSP, Advertising Specialist. 2013-2015.
Achievements: Development of banners for companies. Management of the department, which allowed to optimize the work. Creation of creatives and strategies for business.
How does it look for you? Are these presentable descriptions? You should agree they are rather boring and mundane than presentable. Let's rephrase their summary: the phrases we use can be applied to all kinds of activities without losing their uniqueness and power.
Correct:
MicroSDS, head of that development department. 2005-2009.
Achievements: I've optimized the company's technical process, and implemented X and Y solutions. Increased the efficiency of the staff, streamlining the tasks of each team member. Motivated the department with a rating system. Improved relationships with customers, providing personalized approach to them.
BigSAP, Account Manager. 2012-2018.
Achievements: Established contact with partners and connected them to the Telegram channel. Brought a new audience to the brand from social networks. I've controlled communication with clients, smoothed out conflict situations, and expanded the zone of influence on thematic sites.
MarlinCSP, Advertising Specialist. 2013-2015.
Achievements: Developed banners for X, Y, and Z, increased brand audience engagement. Managed the marketing department, and increased sales of services by 2 times. Created advertising strategies for three clients, and raised their income by 4 times in 2.5 years.
You can see that such a presentation is much better perceived. Besides, such words and formulations are highly rated by ATS and resumes containing them often end up on the table to the employer. Use them wisely because excessive use of strong language harms the purity of the text and its perception by recruiters.
Lifehack dla CV: jak zastąpić wymyślne słowa mocnymi słowami?
Not all trend words are appropriate in expert questionnaires. It is better to replace them with professional terms or close to simple words. You can also use beautiful phrases that will not only emphasize your erudition but also show your social skills. What aphorisms should be written in a resume? For example you can mention such phrases as I easily make new acquaintances; constantly improve my skills; always focus on the desire of the client; think critically in difficult or stressful situations; I do not lose my self-control; increased sales by 5%, increased department performance; reduced production costs.
Wyniki
Writing a job application for a promising position is a difficult but exciting process. Having understood the nuances and approaching the matter with a share of creativity, you will not only show your best side to the employer but also stand out from the competition. To create a resume, use the template.
TOP mocne słowa na udane CV
Czym jest banał w CV?
Jakie są mocne słowa w CV?
Dlaczego warto używać mocnych słów w CV do opisania siebie?
Najlepsze słowa do CV i przykłady, jak ich używać
Lifehack dla CV: jak zastąpić wymyślne słowa mocnymi słowami?
Wyniki
Stwórz z nami swoje CV w 15 minut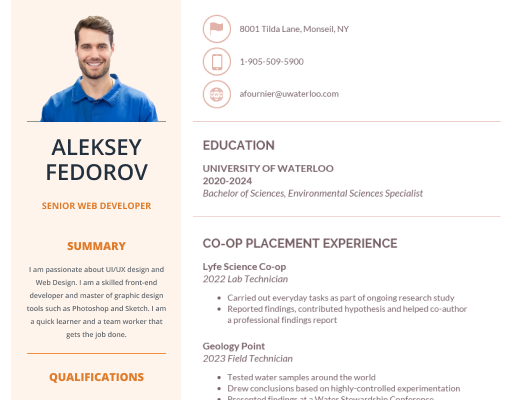 Utwórz teraz