Stwórz CV online w konstruktorze CV
Online free CV builder is a unique tool that allows you to simply fill in the relevant fields with information about yourself, including professional skills, work experience, and contact details. It contains key categories and sections that are common for the top-notch IT companies pros' CV requirements. With our service, you can create a CV online for free and download it to your device or save it in PDF format without registration.
This CV generator helps create a unique picture that describes all of the applicant's features and skills in a few clicks. You can design your profile in any style in a matter of minutes and post a ready-made block about yourself with or without a photo on our job website. If necessary, the file can be saved to be printed/published on another website or sent via e-mail.
Zapisz się, aby otrzymywać aktualizacje
Co tydzień będziesz otrzymywać fajne i przydatne materiały informatyczne
Jobitt is not just a CV constructor website but a full-fledged job search platform where job seekers and recruiters post offers anonymously. It is essential for us to allow you to create a CV document easily, quickly, and, most importantly, for free without any registration. You can also post your sample on the website without leaving the builder menu.
Jak stworzyć CV w konstruktorze
We do know that you want to create a CV online for free and download it. That's why our experts have prepared a step-by-step guide that will help you to fill in all the sections correctly and download your CV file.
Personal Information
First of all, you need to file information about yourself. Enter your first and last name and select a photo. Provide contact details such as Skype, phone number, and LinkedIn/Telegram accounts. Add a link to the portfolio of your works, if you have any.
In this block, you should select the country of residence and the city where you are searching for job offers so that companies looking for people in the state find your profile on the website first of all.
Work Experience
Compiling a CV online for free and without registration is not a problem if you have already work experience in the IT industry so you can mention it in this block. CV constructor does not limit you to the number of previous jobs so take time to fill that section in detail. Please, include only the prestigious positions you held to increase the chances of a response from top companies.
If you worked in several areas, for example, fintech solutions and mobile apps development, please emphasize this experience. It will help you find a job in your specialty.
Education
To create a CV for free using our online constructor, please, add information about your education, academic achievements, and training in this block. List the name of the educational institution in the appropriate field and select your degree. Specify the start and end years of study and add certificates for offline and online courses if you have any.
Our CV building website allows you to search for a job even without a higher education but if you have it, you increase your chances of applying for the right job.
Skills and Abilities
To fill out a CV correctly, you need to enter your skills in a file in electronic form. Our CV builder has a template that prioritizes popular development languages and frameworks to make the process be eating pears for you. Here you can choose the following frameworks to list:
NET
Android
C/C++
JS
Golang
iOS
Java
Node.js
PHP
Python
When choosing options from the list, specify your knowledge, skills, and experience in working with such technologies.
Today experts who have experience in developing projects in several frameworks at one are in demand. That's why the success of your CV directly depends on the skills you indicate in your profile.
Custom Section
Focus on your features in this section of your CV. Share achievements during your study or work. You should decide what you want to tell the recruiter in addition to your profile. The meaning of the custom section pushes everyone who fills out a CV to be creative.
Tworzenie CV online to:
Why is it worth making a CV using our online builder?
Speed — You can create a CV in PDF in a matter of minutes by filling in the ready-made blocks in the online builder. Instead of writing hundreds of text options, you enter information in the appropriate fields and, if necessary, quickly change it.
With our tool, creating a profile and submitting it with content turns from a routine into an exciting activity that saves your time. You are free to choose what data to enter into the file, thereby, providing yourself with the necessary level of anonymity.
Convenience — With the JOBITT CV builder, you easily create a CV while relaxing and having a cup of tea. You don't even need to register on the website to work with our tool. Just open the data entry window and start filling out the applicant's profile.
All the text blocks and fields are logically structured and accurately designed. On the right side of the screen, you can see the layout of your CV emulated. It helps you to track changes you submit in the document in real-time.
High Quality — All templates are designed following the examples of top IT companies. By filling out a CV with us, you work with the tools of the best technical brands and market ambassadors to achieve the highest-quality result.
The data format is identical to the level of tech giants, and the generated file can be safely sent to any company you are interested in without fear of poor design. The PDF format makes our solution versatile, ensuring maximum readability, and provides easy access.
Professionalism — A CV building website Jobitt allows you to make a high-level profile. The principle of questioning, which underlies our template, provides employers with all the answers to their main questions in the most convenient way.
You can show your professionalism and the highest responsibility level just by demonstrating the profile generated in our service at an interview. Instead of racking your brains over building a structure and formulating thoughts, you just need to fill in all the fields in the questionnaire.
Anonymity — A critical feature of our service is complete anonymity for applicants. If you post a generated CV on JOBITT, the information provided in the application form will only be available for you. Your full name, phone number, and all contact details are protected.
The employer will contact you through our website. All messages will be redirected to your profile without disclosing confidential data. It is the best option for those who look for a job while currently is working and who do not want their current employer to know about their plans to move to another job.
FAQ
Why use the Jobitt CV Builder?
You create a CV file in PDF and then save, print, or send it to the employer on any job search website as you wish. The service saves your time with a convenient logical tool that will collect all the information in the questionnaire mode and prepare a ready-made document.
How to write a CV for a job?
All you have to do is to follow the blocks in our CV template, fill them in, save the document, and publish it. For perfect design, we recommend you to study our short guide that tells what information to enter into the blocks step by step. Add detailed information about your soft and hard skills because recruiters look at them first.
Is the Jobitt CV builder free?
Using JOBITT, you can create a CV online for free and without registration and then publish it on the website or download it to your device. Our service allows you to create a CV according to a template and highlight your portfolio against the background of other candidates, thanks to thoughtful design and content.
Where can I find sample CVs?
Do you want to see what our CV Builder can do? Take a look at the Candidates section and see how other applicants entered the information. Please note that due to the anonymity of our service, some CVs cannot be fully available for review. You can also contact the support service, and they will show you examples of the correct filling.
Are there CV templates?
Basically, our CV generator is a template in its essence. It is designed in the best traditions of large IT companies we cooperate with. Due to the automated markup of the CV document, all information is divided into blocks according to the constructor's algorithm. As a result, you just write the text, and the system arranges it into a neat structure.
How to download a completed CV?
To create a CV online for free and download it to your device, you need to fill in all the fields with relevant information, check it for mistakes, and click on the big button in the lower right corner of the thumbnail. After confirming and selecting the save path, you will find the document in your downloads folder.
In what format can a CV be downloaded?
Using the JOBITT builder, you can create a CV in PDF format, supported by most document viewers. It can also be opened with the standard tools of Chrome, Opera, FireFox, Safari browsers, or Adobe Reader.
Why is the JOBITT CV Builder better than others?
Our CV builder is better than most competitors for three reasons:
A professional template is designed following the checklists of top IT companies.
Anonymous publication of CVs allows you to hide confidential data even from recruiters if you need it.
Working with content is versatile as documents can be saved locally, published, or sent to the employer.
In what language may a CV be written?
With JOBITT, you can quickly and easily create a CV in English. Today, it is the common language for all branches of the IT industry. All terminology, most of the guides, and technical documentation for specialized developers' tools and programming languages are written in English. Therefore, companies require fluent or at least good English from candidates.
Save time by creating and posting CVs with the Jobitt Builder. With us, you get a convenient and free tool without registration and the ability to place anonymous profiles on the website. Come to JOBITT and dive into the world of IT with the leading industry ambassadors!
Stwórz CV online w konstruktorze CV
Jak stworzyć CV w konstruktorze
Tworzenie CV online to:
FAQ
Stwórz z nami swoje CV w 15 minut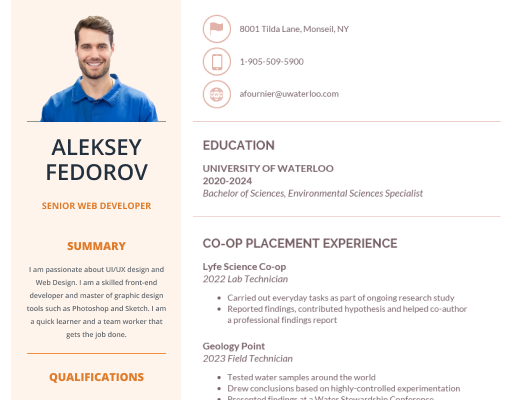 Utwórz teraz