Czy istnieje różnica między CV a życiorysem
We are pretty sure that you have noticed the requirement to send a CV in the text describing the vacancy at least once in your lifetime. And you have sent a resume instead. Maybe, in this situation, the truth was at your side as lots of hirers and employees do not see the difference between a resume and a CV at all! Yet if the possible employer wishes to look through your curriculum vitae (that's what a CV is, in fact) you may goof off and miss the most perspective offer if you send him a resume instead of your CV.
In this article, we are going to analyze the difference between a CV and a resume so you can get through what a document your future employer or HR actually wants to get from you. We hope that this article will help you to see the difference between these two documents so you won't miss the offer of your dream in the IT field.
Zapisz się, aby otrzymywać aktualizacje
Co tydzień będziesz otrzymywać fajne i przydatne materiały informatyczne
Czym jest CV
Translating from Latin, curriculum vitae (aka CV) means the description of your life. It is a document describing in detail your career, education, other skills, and achievements. In your CV, it is necessary to mention your basic and additional education, no matter if it suits a job offer you are applying for. You should also mention all your previous job experience without any depending on your specialization and your career levels.
If we compare a CV with a resume, the main difference lies in the details you are describing at each point. Taking a brief example, when you are writing a CV, it is appropriate to list your social life and skills you achieved while being a student besides the name of the university/college, terms of your studies, and so on.
Alongside your main jobs, it is useful to list additional training pieces, workshops, and courses you have visited. Scientists, as usual, add to the document the list of their articles published in scientific media or even some excerpts from these articles. All this makes a CV a voluminous document. Sometimes, a CV may take several dozens of A4 sheets of paper.
Czym jest CV
A resume can be considered as some kind of a dossier where all the main achievements of a candidate are listed. The main difference between a CV and a resume lies in the volume a resume requires. All the data about a candidate are listed shortly in a resume, sometimes, even in the format of an excerpt. For example, when you are applying for the teacher's job, there is no need to enclose in your resume your past sales management experience in the field of motor oil sales.
This principle of drawing up allows the resume to attract the attention of a potential leader exactly to the knowledge and abilities that are required for successful work in a vacant position. Besides, company executives and recruiters value their time very much, so they are more supportive of resumes, where everything is short and highlighted accurately.
The optimal volume of a resume is up to 2 A4 pages of printed text.
CV vs Resume: kluczowe różnice
To clearly show how a CV differs from a resume, we have compiled a table in which we compare these two documents in terms of the main parameters including the allowable size of the document, the data it contains, adaptability to a specific vacancy, scope, and appearance.
| | A CV | A Resume |
| --- | --- | --- |
| The volume of the document | Due to detailed information listed in a CV, the volume of the document may reach up to several dozens of pages and it will seem normal for an employer. | An optimal resume volume is 1-2 A4 pages. No more is available. |
| The information | The CV contains both basic information about education and places of work, as well as data on related training pieces, courses, webinars, conferences, and social activities. And if this implies the specifics of the profession - a list of publications and scientific papers. | A resume usually has a clearly defined structure and consists of several items: personal data and contacts of the applicant, his previous jobs and education, as well as briefly listed professional skills and personal qualities. |
| Adaptivity | You can send the same CV document when applying for all the jobs. You may customize your CV by sending a cover letter along with it to enclose all the details that may be of interest on a certain occasion. | This type of document involves the coverage of facts that correspond to a particular vacancy. To fill different positions, radically different resumes can be drawn up, each of which will be truthful. |
| The Scope | CVs are usually sent by applicants to fill vacancies in the field of scientific or teaching activities, journalism, medicine, and law. | It will be enough to send a resume in all other situations. |
| Appearance | A CV resembles a bio of a candidate with the difference in the information that is limited by professional field only. It is filled in chronological order. | A resume is a summary of your career and education in reverse chronological order. |
Wniosek
Generally, most employers want to get a resume from candidates. If that case refers to you, we offer you to create your resume in the resume builder that is fast and professional at once. In case your potential CEO or an HR pro insists on sending a CV, please, try your best to enclose all your professional activities in detail as the difference between a CV and a resume could be significant.
Czy istnieje różnica między CV a życiorysem
Czym jest CV
Czym jest CV
CV vs Resume: kluczowe różnice
Wniosek
Stwórz z nami swoje CV w 15 minut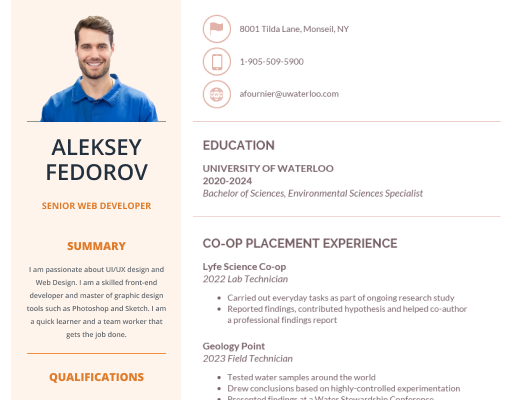 Utwórz teraz