How to Describe Work Experience in Your CV?
Modern employment statistics look disappointing. Roanestate says that out of 250 CVs received, the company chooses no more than 6 for an interview, and only 1 person receives a job offer. Why is this happening? Recruiters look at CVs and see similar information in them. They distinguish several unique ones using the selection method or automation systems. After reviewing the relevant profiles, HRs decide to conduct an interview.
How to interest an employer? You just need to fill out the form correctly by indicating only truthful data about yourself. Today we will consider in more detail what to write in the work experience section of your CV and how to draw this column correctly.
Subscribe to updates
You will receive cool and useful material every week.
What Work Experience Should You Include in Your CV?
All the experience matters, we can say, from the first job to the current position. Sounds simple, but how to do this? Work experience in your CV is like a marketing campaign for a brand. The brighter sides of yourself you show, the higher are the chances of success. Recruiters value experience in relevant positions. If you don't have it, focus on similar responsibilities. If there are none, just describe your entire working path, starting with the first employment.
What experience to describe in a CV? Indicate the main jobs that are at least a little similar to the selected vacancy. The duties of a leader, manager, analyst, or marketer are universal. The skills acquired in such positions can be applied everywhere, which means increased chances of being invited to an interview.
Work Experience Order. How Should You Describe Work Experience in Your CV?
The universal work experience order in a CV looks logical if you put this block after the About Me section. At this point, it will harmoniously fit into your CV and tell the recruiter about your career path. If you are a newbie, it is better to swap this information with education, focusing the employer's attention on educational achievements. How to describe your experience in a CV correctly, and what should be avoided?
Correctly
Avoid vernacular and generalizations when filling out the CV's section describing your current job:
AH Prirechny
Head of IT department, 01.2013 - present day
Managed projects for the modernization and optimization of equipment, introduced 10 new solutions into the production process.
Coordinated the work of a team of 12 subordinates, improved their skills, and taught them specialized mechanics.
Developed intelligent systems for the company, equipped 2 complexes with automatic cameras and sensors.
Incorrect
A bad example of describing work experience in a CV:
IT pro at Profi LLC, 15 years of experience
Worked in the company's office.
Solved all the tasks and requirements of the management.
Learned new software development techniques.
What Order You Should Follow When Describing Work Experience in a CV: Examples and Tips
What chronological order should you follow in the work experience section of your CV? Use descending order, please. First, indicate the current or last position, mention the company, and move to the very first position.
Since recruiters require up-to-date information, they will unlikely be interested in a ten-year-old position, no matter what this job was. That's why candidates must know exactly how to indicate work experience in a CV. Let's look at an example of a correct description in the following block.
Positions are written in reverse order:
Product Sales Manager in X, 02.2017-03.2021.
Executive director at Y, 03.2013-01.2017.
Analyst at Z, 05.2000-02.2013.
Executive trainee at W, 06.1997-04.2000.
If such a candidate is applying for a sales manager position, the first line will set him apart from the competition.
How to Specify a Job Promotion in a CV?
For example, you move up the career ladder at one job but don't know how to specify your promotion in your CV. Look how one of our applicants did it:
Google
Developer
Optimized the search engine and speeded up query processing by 4%.
Implemented an algorithm for recognizing incoherent phrases and wordings in the browser.
Appointed as head of the department for the development of intelligent systems and their integration into search.
You can put your work experience into chronology, describing each position separately. But in this case, your text will go beyond the recommended volume, which will reduce your chances of successful employment.
A Sample of How to Describe Your Work Experience in a CV
Please, look at this sample to get through what kind of work experience must be included in your CV:
Vasily Ivanov, 37 years old, Lviv.
17 years of experience in marketing, 3 awards for increasing company revenue as a result of developing new strategies.
Ruta CJSC
Business Analyst, 01.2017 - present day
Study and analysis of the agricultural market of the northern region.
Building a business development strategy and asset expansion.
Training of interns and their integration into the company.
Vishnya CJSC
Marketologist, 02.2010-12.2016
Search and development of advertising channels.
Brand customization.
Communication with consumers.
It is an example of how to describe work experience in a CV for a marketer position.
What to Write in Your CV if You Don't Have Any Work Experience
What is the most important work experience? It is the experience that is relevant to the vacancy you wish to get. What to do in the case of no experience, or if you are yesterday's alumni who completed some courses?
Focus on training and certifications. Describe in more detail your achievements during the study, attach digital certificates, or provide a link to a resource with them.
Conclusion
Now you know how to describe work experience in your CV correctly. If you need to make a CV, you are welcome to be guided by our advice. You will get the best competitive profile increasing your chances of finding a job. Visit JOBITT, post your anonymous profile, and choose from thousands of IT jobs!
How to Describe Work Experience in Your CV?
What Work Experience Should You Include in Your CV?
Work Experience Order. How Should You Describe Work Experience in Your CV?
What Order You Should Follow When Describing Work Experience in a CV: Examples and Tips
How to Specify a Job Promotion in a CV?
A Sample of How to Describe Your Work Experience in a CV
What to Write in Your CV if You Don't Have Any Work Experience
Conclusion
Create your resume with us in 15 minutes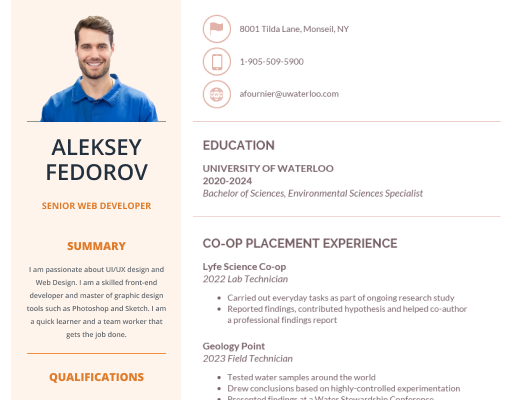 Create now